The American Academy of Pediatrics (AAP) has issued new recommendations for providing children with safe drinking water from private wells. Click image above to learn more.

(Click above for updates and general information about the pandemic)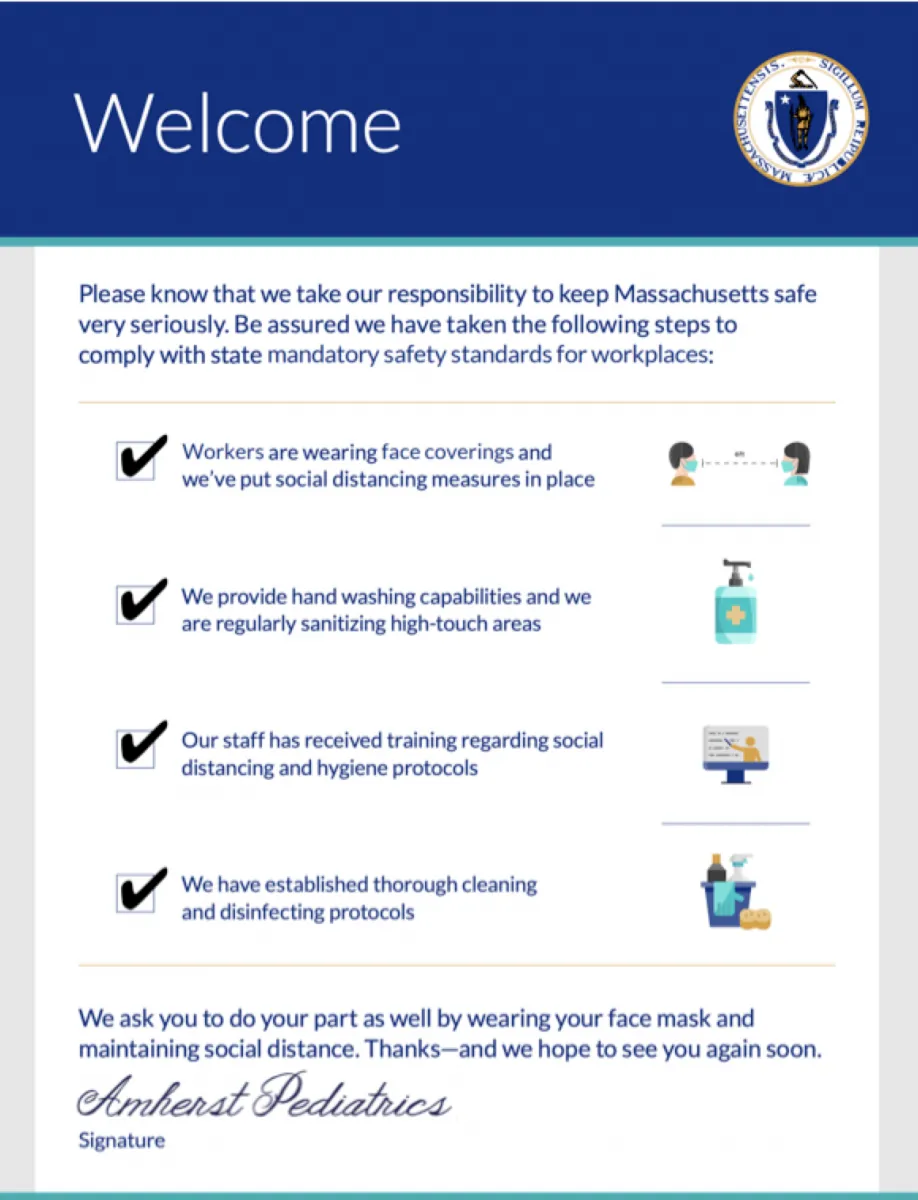 Please note these changes to our normal office hours
► Monday-Friday 8:30AM-4:45PM for in-office as well as MyChart Virtual Visits
► Monday-Friday 4:45PM-6:00PM for after-hours MyChart Virtual Visits only
► Saturday 8:00 AM-12:00PM for MyChart Virtual Visits only
If during regular office hours you have concerns about your child, please contact us by sending a message through the MyChart patient portal. Our providers will be able to respond to you during regular office hours. If your concern is urgent, please call the office directly rather than leaving a MyChart message.
We are able to assist you with some of your needs through the use of MyChart Virtual Visits. Please see below for information about how to prepare for a Virtual Visit through the MyChart patient portal.
If it is determined that you need to be seen in our office, we ask that you respect the following important safety recommendations:
► Do not come to our office if you have a fever or cough without calling ahead of time..
► Please wear your own mask or suitable alternative at all times when in our office. To protect our staff and others, you will not be permitted to enter our office suite without a mask or other suitable covering over your nose and mouth.
The COVID-19 situation is ever unfolding. We are dedicated to the safety of our patients and staff. Please check our website frequently for updates on this changing situation.
Virtual Visits are here to stay!
Amherst Pediatrics is happy to offer Virtual Visits to allow you to stay home when you are sick, while still being "seen" by one of our providers. Before you can be seen in a Virtual Visit, there are a few important things you need to do. Please click on the image below to learn more about preparing for and scheduling your Virtual Visit. Currently, Virtual Visits cannot be scheduled through MyChart. You will need to send us a MyChart message in order for us to assist you with making an appointment for a Virtual Visit. Please make sure you have the most current versions of both the Zoom and MyChart apps before starting your virtual visit.
Virtual Visits



(Click the icon above to learn more)
(Click above for resources to help cope with stressful times)
---
Welcome to Our Practice
At Amherst Pediatrics, our dedicated team of healthcare professionals is committed to providing excellent medical care, service, and guidance to families as their children grow from birth to young adulthood. We achieve this through a comprehensive, continuous and personal approach to advice, treatment, and support. We expect to be the "medical home" for your child, helping to coordinate all your child's health care needs.
We aim to serve all families in the community regardless of social or economic status and with respect for cultural beliefs. We consider it a privilege to care for children and strive to do so in a kind and compassionate manner. Medical information is handled with the strictest confidence in accordance with legal guidelines, and with respect for our patients and their families.
Caring for our patients is a longitudinal team effort that begins with the telephone call, continues through the office visit, and extends beyond the visit to include close follow-up and management of all of their healthcare needs. The team approach is also very important when patients see someone other than their regular provider. Families can expect the same care from all of our providers. This care is based on agreed-upon treatment standards and facilitated by information sharing through our electronic health record.
Amherst Pediatrics is proud to be a member of The Pediatric Physicians Organization at Boston Children's Hospital (PPOC).